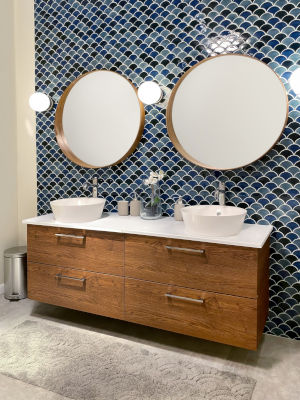 While functionality is the most important consideration when it comes to bathrooms, many people find that their bathrooms lack character and beauty. That is why bathroom renovations are so popular among homeowners. There are many ways to transform a plain, outdated bathroom into a beautiful and relaxing space, but the reality is that most people are working with a budget. Because you may not be able to change everything, you want to invest in the changes that will make the biggest difference.
Countertops- If you have a regular suburban home, it is almost guaranteed that your bathroom has ugly countertops. This is unfortunate because countertops tend to draw the eye, but that also means that updating your countertops will make a visible difference for your bathroom whether you choose granite, quartz, wood, marble, or something else.
Cabinetry- Bathroom renovations can be simple. For example, your bathroom cabinets can be improved simply by refinishing them with a beautiful stain or paint. Or, if you want to make a major difference with even smaller details, you can replace the knobs or handles with something unique and decorative.
Fixtures- Switching out your old plumbing and lighting fixtures will make your bathroom look brand new and sophisticated. You do not necessarily need to change your toilet or sink, but a shiny brass faucet or shower head may suffice. In addition, a nice wall sconce or vanity lighting can make your bathroom brighter and more beautiful.
If you have questions about bathroom renovations, let us know.